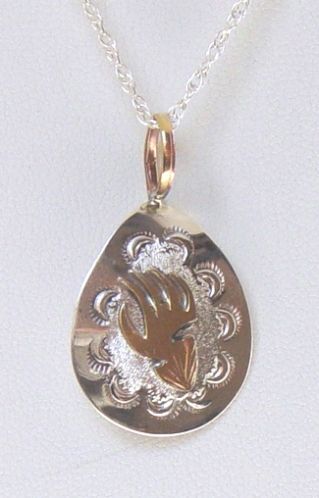 Bear Claw - Pendant
This Bear Claw Jewelry is in a sterling silver raindrop design with a 12k gold fill Bear Claw figure overlay. This Bear Claw jewelry measures 1 1/4 inches in length including the bale and 3/4 inches across.
You may purchase this bear claw pendant with or without a chain.
Chains for this pendant start at $14.99, when you purchase pendant & chain together you save an additional $5. Use the drop-down box. 
As a spirit animal in touch with the earth and the cycles of nature, it is a powerful guide to support physical and emotional healing. The bear has several meanings that will inspire those who have this animal as a totem: The primary meaning of the bear spirit animal is strength and confidenc
Reviews