Sterling Silver - Turquoise - Bear Paw & Feathers Pendant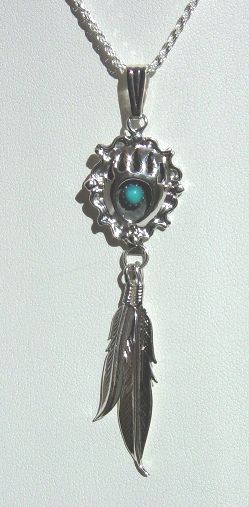 Sterling Silver - Turquoise - Bear Paw & Feathers Pendant
This Bear Paw pendant is handcrafted of sterling silver with sterling silver feathers and a 2mm Turquoise Stone. It measures a total 3 inches in length. The Bear Paw measures 3/4 inch in width and length. 
***Chain sold separately ***
Turquoise is perhaps the oldest stone in man's history, the talisman of kings, shamans, and warriors. It is a stone of protection, strong and opaque, yet soothing to the touch, healing to the eye, as if carved from an azure heaven and slipped to earth. 

Native American tribes believe that it is the purpose of the bear to protect the forests. The animal spirit of Bear also is a birth totem to people born between August 22nd to September 22nd which is the time of the Harvest Moon. Mudjekeewis or Bear is also the Spirit Keeper of the West direction of the Medicine Wheel and is also considered to be the "Father of all the Winds" by many Native American traditions.

Reviews