Black Bear - Turquoise Arrow & Silver Feathers - Pendant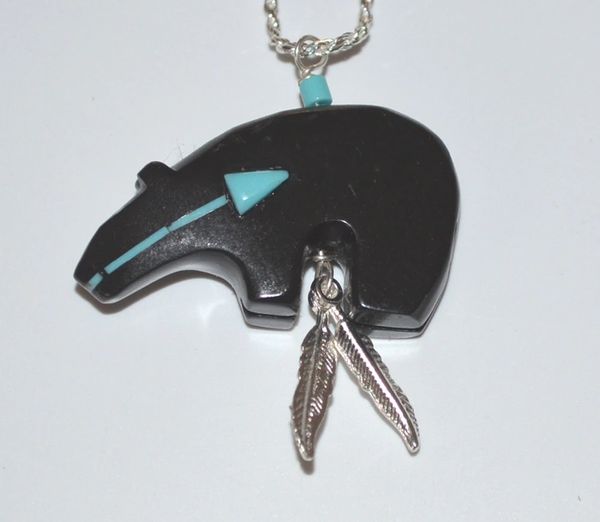 Black Bear - Turquoise Arrow & Silver Feathers - Pendant
Carved from jet, this bear pendant has two sterling silver feathers and measures 2 inches from the top of the bale and 1- 1/2 inches across. It is (jet) black (jet) a turquoise heart line for longevity.
Turquoise
is perhaps the oldest stone in man's history, the talisman of kings, shamans, and warriors. It is a stone of protection, strong and opaque, yet soothing to the touch, healing to the eye, as if carved from an azure heaven and slipped to earth.
The
Bear
symbol was important as it represented a protector and symbolized courage, physical strength and leadership.
Bears
are strong, agile, and quick. The black
bear
and the Grizzly were native to North America. The
meaning
of the
Bear
Symbol was to signify a good omen and convey authority.
Reviews