Sterling Silver - Turquoise - Feathers - Pendant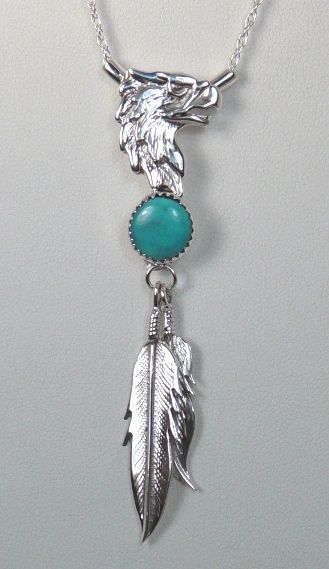 Sterling Silver - Turquoise - Feathers - Pendant
This Eagle Jewelry with Turquoise and Feathers was handmade and stamped by a Native American. It is a sterling silver Eagle with a 10 mm turquoise nugget and 2 sterling silver feathers. It measures 2 3/4 inches in length and 1/2 inches across.
This pendant includes the 18 inch sterling silver chain pictured.
To the Navajo tribe, the color turquoise represents happiness, luck, and health. Turquoise is also the most common component of Native American Jewelry. The Navajo were talented in molding turquoise into beads, and making Heishi necklaces.
Native American bird and animal symbols and totems are believed to represent the physical form of a spirit helper and guide. The Native Americans consider the bald
eagle
and the golden
eagle
to be sacred. As
eagles
are the highest flying birds they were seen to be nearer to the Creator.
Reviews