Sterling Silver Eagle - Turquoise Nugget - Onyx Claw - Pendant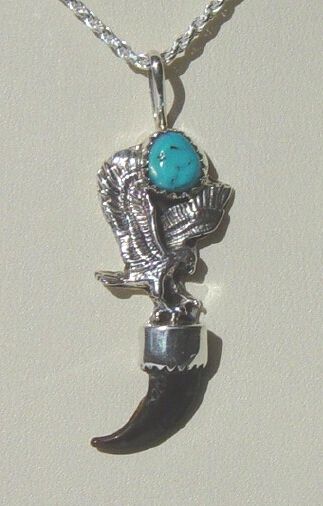 Sterling Silver Eagle - Turquoise Nugget - Onyx Claw - Pendant
This sterling silver eagle pendant has an 8mm Turquoise Nugget and onyx badger claw. The sterling silver eagle pendant was made in America by a collective of Native Silversmiths and measures 1- 1/2 inches from the top of the bale and 1/2 inches across. 
Turquoise
 is perhaps the oldest stone in man's history, the talisman of kings, shamans, and warriors. It is a stone of protection, strong and opaque, yet soothing to the touch, healing to the eye as if carved from an azure heaven and slipped to earth.
A powerful protection 
stone
, Black 
Onyx
 absorbs and transforms negative energy, and helps to prevent the drain of personal energy. Black 
Onyx
 aids the development of emotional and physical strength and stamina, especially when support is needed during times of stress, confusion or grief.
Eagle
 conveys the powers and messages of the 
spirit
; it is man's connection to the divine because it flies higher than any other bird. ... If 
eagle
 has appeared, it bestows freedom and courage to look ahead. The 
eagle
 is symbolic of the importance of honesty and truthful principles.
Reviews