Sterling Silver -Opal Inlay - Ring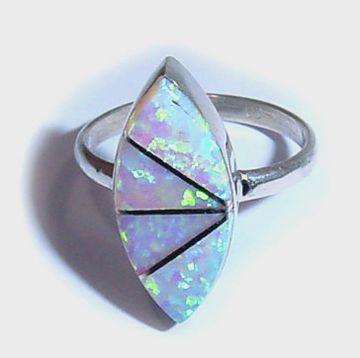 Sterling Silver -Opal Inlay - Ring
This Beautiful Women's Sterling Silver Ring with Opal Inlay was made in the USA. This Opal Ring measures 3/4 inch in length, 1/4 inch in width. Opal loves to show its beautifully varied colors in the sunlight and draws the eye to its brilliance and dazzling shimmer.
The
Meaning
and History of
Opal
.
Opal
is the birthstone for the month of October, along with pink tourmaline. The name
opal
is thought to be derived from the Sanskrit Upala,
meaning
"precious
stone
," and later the Greek derivative "Opallios,"
meaning
"to see a change of color."
The metaphysical properties of
Fire Opal
are related to loyalty and trust. Because of the interplay of colors and light, Fire Opal is considered a stone of magical powers. This crystal helps improve sight, protects from contagious diseases, and eases the pain that originates from grief and sorrow.
Fire opal symbolizes magic, love, progress, hope, happiness, and truth. This stone will increase your personal power and can protect you from harm and danger. A popular belief holds that it fades near poison.
Reviews