Hammered Sterling Silver - Arrowhead Jewelry - Pendant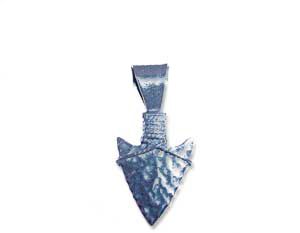 Hammered Sterling Silver - Arrowhead Jewelry - Pendant
This Arrowhead jewelry is a Sterling Silver hammer design pendant which was made in America by native silver. This Pendant measures 1 3/8 inches in length including the bale by approximately 5/8 inches in width. This Arrowhead jewelry has the realistic details of being hammered into shape with the twine holding it in place.
Arrow Meaning
. An
Arrow
is a symbol that may
mean
protection, defense, movement, force, swiftness, sureness, direction and power. The
Arrow
is also believed to ward off evil spirits if pointed to the left.
Reviews