Sterling Silver - Turquoise & Badger Claw - Buffalo Pendant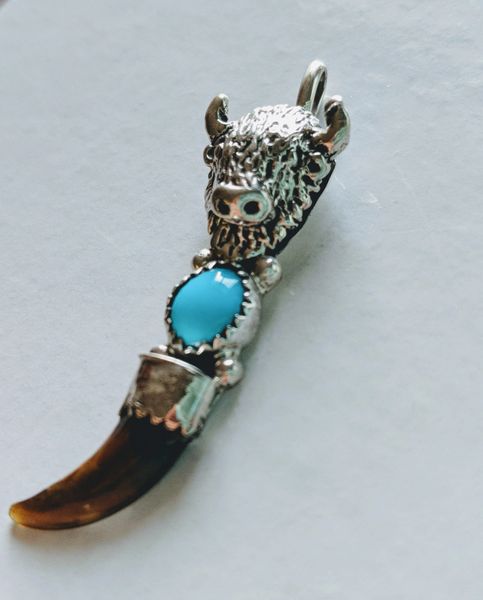 Sterling Silver - Turquoise & Badger Claw - Buffalo Pendant
This Buffalo sits atop an 8mm Turquoise Nugget and a Badger Claw. The pendant measures 2 1/4 inches from the top of the bale and 5/8 inches across.
***Chain sold separately***
Buffalo (also known as bison) play an important role in Native American folklore, particularly the folklore of Plains Indian tribes. Buffalo were one of the most important food sources for Plains tribes, but they were hard to hunt in the days before guns and horses, so there were many rituals, dances, and prayers in Plains Indian tribes related to the difficult and dangerous but life-sustaining art of buffalo hunting. In many Plains Indian myths, buffalo gave themselves up willingly as a food source for humans, and therefore have a special position of honor and respect.
Badgers are usually portrayed as hard-working, cautious animals or as protective parents. Among the Pueblo tribes, badgers are considered one of the six directional guardians, associated with the south and the color red. The Zunis ascribe healing and protective powers to badgers and carve stone badger fetishes to protect them and bring them luck.
Turquoise is perhaps the oldest stone in man's history, the talisman of kings, shamans, and warriors. It is a stone of protection, strong and opaque, yet soothing to the touch, healing to the eye, as if carved from an azure heaven and slipped to earth.

Reviews