Sterling Silver - Kokopelli - Pendant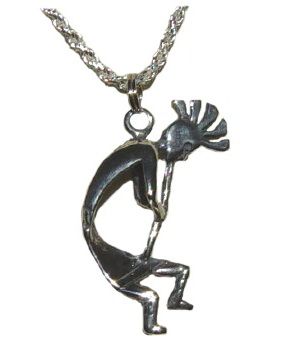 Sterling Silver - Kokopelli - Pendant
This Kokopelli jewelry was made in America and is 100% sterling silver. This Kokopelli measures 1 1/4 inches in length and 3/4 inch across.
Kokopelli
is a fertility deity, usually depicted as a humpbacked flute player (often with feathers or antenna-like protrusions on his head), who has been venerated by some Native American cultures in the Southwestern United States. Like most fertility deities,
Kokopelli
presides over both childbirth and agriculture.
Reviews