Sterling Silver - Opal Mosaic Inlay - Pendant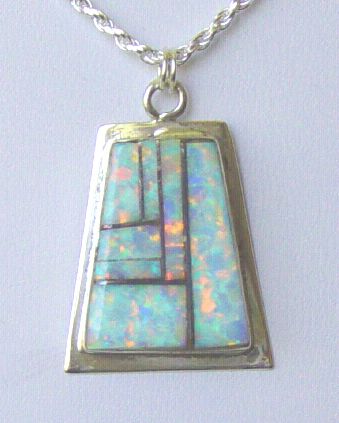 Sterling Silver - Opal Mosaic Inlay - Pendant
This Opal jewelry was made in America by a collective of Native Arisians. The colors in this large opal pendant are bright and beautiful. The opal is mosaic style inlaid into a sterling silver design setting. A large piece of opal jewelry which measures 1- 1/4 inch in length from the bale and 3/4 inch across.
Opal is the birthstone for the month of October, along with pink tourmaline. It is also the stone given to celebrate the 14th year of marriage. The name opal is thought to be derived from the Sanskrit upala, meaning "precious stone," and later the Greek derivative "Opallios," meaning "to see a change of color." May.
Mosaic is a spiritual symbol of life. It signifies the various patterns in which we live. People who dream about mosaic represent their characteristic traits. These dreams convey that one shares a peaceful, creative, spiritual, and poised nature. Analyze the different colors of the Mosaics in your dream.

Reviews