Sterling Silver & 12K Gold Fill - Storyteller - Bear Pendant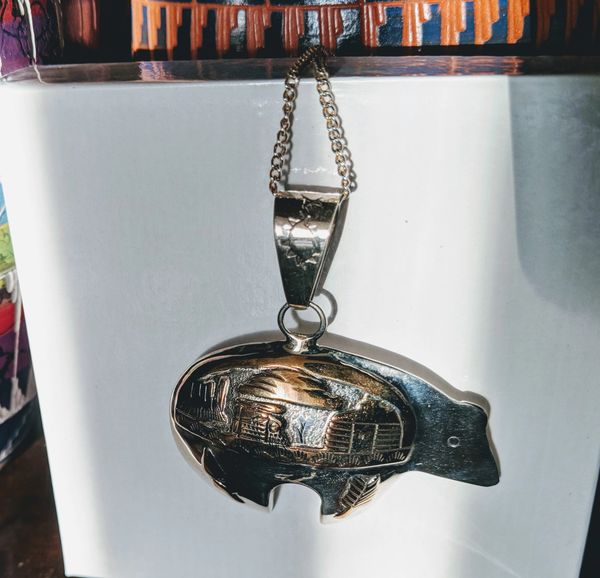 Sterling Silver & 12K Gold Fill - Storyteller - Bear Pendant
This Sterling Silver Bear jewelry is a large beautiful pendant with 12K Gold Fill. It measures approximately 2 1/4 inch across by 2 1/4 inch high (including the bale) and is 1/4 inch thick with the inside being hollow. This sterling silver bear, it is stamped "sterling" and has the Native American artist's initials. This storyteller depicts everyday life in a village, with hogans, mountains, maze and weaving.
Each piece is unique as it is handmade, so please know that the pendants shown may not look exactly like the art you receive.
*** Chain sold separately ***
Native American tribes believe that it is the purpose of the bear to protect the forests. The animal spirit of Bear also is a birth totem to people born between August 22nd to September 22nd which is the time of the Harvest Moon. Mudjekeewis or Bear is also the Spirit Keeper of the West direction of the Medicine Wheel and is also considered to be the "Father of all the Winds" by many Native American traditions.

Reviews