Oval Sterling Silver - Turquoise and Coral Inlay - Pendant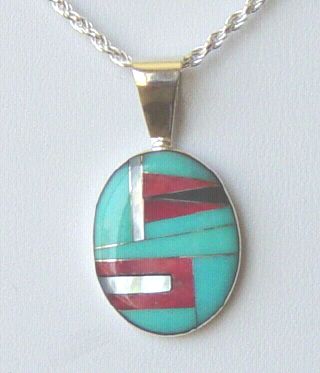 Oval Sterling Silver - Turquoise and Coral Inlay - Pendant
An oval sterling silver pendant inlaid with turquoise and coral. An authentic native jewelry piece made in America by a collective of Native Silversmiths and Craftsmen Jewelers.
Turquoise is perhaps the oldest stone in man's history, the talisman of kings, shamans, and warriors. It is a stone of protection, strong and opaque, yet soothing to the touch, healing to the eye as if carved from an azure heaven and slipped to earth.

Coral represents diplomacy and is said to quiet the emotions and brings peace within. Coral helps to both understand and use the qualities of the mystic, as it facilitates intuition, imagination, and visualization. Coral connects to past spiritual masters and expedites and accelerates the transfer of knowledge.

Reviews