Sterling Silver - Turquoise & Coral - Feather Pendant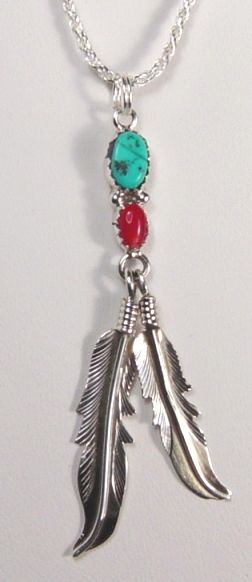 Sterling Silver - Turquoise & Coral - Feather Pendant
This turquoise and coral jewelry was made in America and measures 2 1/2 inches in length and 1/4 inch in width. There is a 6mm turquoise nugget and a 4 mm coral nugget set in sterling silver with two sterling silver feathers hanging below.
 *** Chain sold separately *** 
Turquoise
 is perhaps the oldest stone in man's history, the talisman of kings, shamans, and warriors. It is a stone of protection, strong and opaque, yet soothing to the touch, healing to the eye as if carved from an azure heaven and slipped to earth.
Coral
 represents diplomacy and is said to quiet the emotions and brings peace within. 
Coral
 helps to both understand and use the qualities of the mystic, as it facilitates intuition, imagination and visualization. 
Coral
 connects to past 
spiritual
 masters and expedites and accelerates the transfer of knowledge.
Symbol meaning of feathers deals with ascension and 
spiritual
 evolution to a higher plane. Feathers were worn by Native American Chiefs to symbolize their communication with Spirit, and to express their 
celestial
 wisdom.
Reviews