Sterling Silver Leaf - Turquoise Coral Nugget - Ring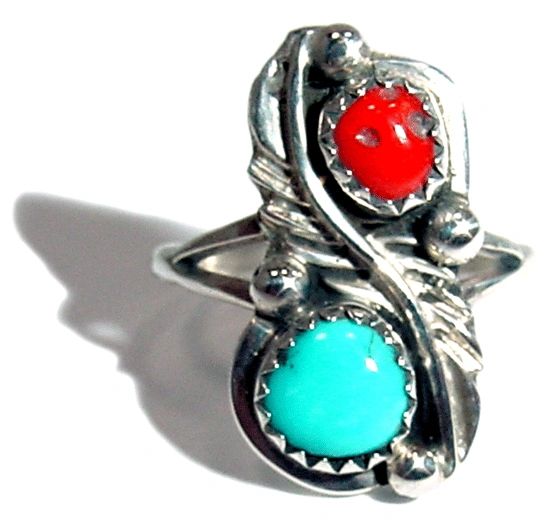 Sterling Silver Leaf - Turquoise Coral Nugget - Ring
This turquoise and coral ring was made in America. This sterling silver ring was handcrafted with a Turquoise Nugget and a Coral Nugget. The Turquoise Stone measures approximately 6mm by 6mm and the Coral Stone measures approximately 4mm by 5mm with a silver leaf set between the two stones. 
The Color 
Turquoise
. ... The color turquoise
 is associated with 
meanings
 of refreshing, feminine, calming, sophisticated, energy, wisdom, serenity, wholeness, creativity, emotional balance, good luck, 
spiritual grounding
, friendship, love, joy, tranquility, patience, intuition, and loyalty.
Coral
 represents diplomacy and is said to quiet the emotions and brings peace within. 
Coral
 helps to both understand and use the qualities of the mystic, as it facilitates intuition, imagination, and visualization. 
Coral
 connects to past 
spiritual
 masters and expedites and accelerates the transfer of knowledge.
Reviews