Sterling Silver - Turquoise - Starburst Pendant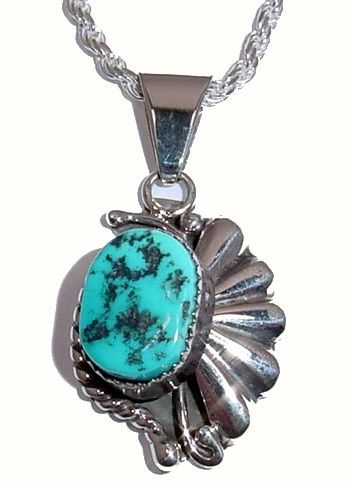 Sterling Silver - Turquoise - Starburst Pendant
This beautiful pendant has a Turquoise Nugget set in a Sterling Silver Starburst design. The stone measures about 8mm x 11mm and is set in 1- 1/2" x 3/4" handcrafted silver adorned with pretty pieces of rope, starburst beaded and fan, giving this pendant a sophisticated feel. Given the turquoise is a natural product of Earth and each pendant is handmade, you may not receive exactly what this image shows, but the design is the same.
*** Chain sold separately ***
Turquoise is perhaps the oldest stone in man's history, the talisman of kings, shamans, and warriors. It is a stone of protection, strong and opaque, yet soothing to the touch, healing to the eye, as if carved from an azure heaven and slipped to earth.

Reviews