Sterling Silver - Turquoise - Wolf & Feather Pendant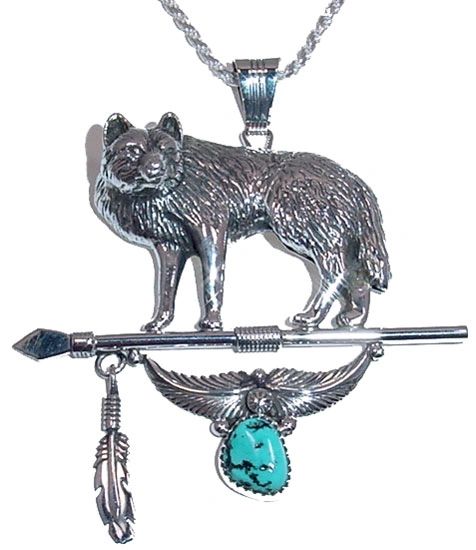 Sterling Silver - Turquoise - Wolf & Feather Pendant
This heavy and bold Wolf pendant measures 3 -1/4 inches from the top of the bale and 2 -3/4 inches across from end to end of the lance.  The turquoise nugget is approximate 10mm x 8mm. Please consider that each stone is a natural product of Earth, so it will likely not receive the one pictured.
This pendant was handcrafted by Native American, Henry Ahakai, and is stamped "H" and the word "Sterling"
*** Chain sold Separately ***
Turquoise is perhaps the oldest stone in man's history, the talisman of kings, shamans, and warriors. It is a stone of protection, strong and opaque, yet soothing to the touch, healing to the eye, as if carved from an azure heaven and slipped to earth.

Wolves figure prominently in the mythology of nearly every Native American tribe. In most Native cultures, Wolf is considered a medicine being associated with courage, strength, loyalty, and success at hunting. Like bears, wolves are considered closely related to humans by many North American tribes.

Reviews